Powerful special interests that have spent millions to elect Republican Gov. Scott Walker are hailing his order to stop state agencies from working to meet federal regulations that require Wisconsin utilities to cut power plant pollution.

Big Money Rejoices Over Walker's Halt on Pollution Rules

February 17, 2016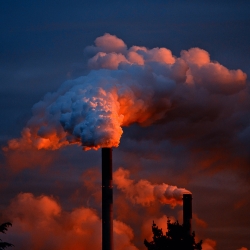 Walker's order came after the Obama Administration's rules to sharply reduce carbon emissions from power plants were put on hold last week by the U.S. Supreme Court. The rules, which were announced last August, would require Wisconsin power plants to cut carbon emissions by 34 percent from 2012 levels by 2030.
Shortly after the rules were unveiled, GOP Attorney General Brad Schimel joined a multi-state lawsuit against the new pollution standards, which critics contend will hurt states, like Wisconsin, where utilities burn more carbon-producing coal to make electricity.
Environmental groups support the rules as a means of addressing global warming and reducing respiratory and other health problems.
Walker's decision to delay state work to implement the rules drew praise from Wisconsin Manufacturers & Commerce (WMC), the state's largest business organization, and Americans for Prosperity (AFP), a rightwing electioneering group founded and funded by billionaire brothers Charles and David Koch. Together, the two groups have secretly raised and spent more than $14 million on outside electioneering activities to help keep Walker in office.
WMC and Americans for Prosperity said in statements – here and here – that the rules would hurt Wisconsin's economy by increasing residential and commercial energy costs.
"The governor deserves high praise for rejecting President Obama's energy poverty regulations – they're simply out of touch with the facts on the ground in Wisconsin," said Eric Bott, AFP's state director.
WMC, which is a top spender on legislative and statewide elections in order to influence state policy and spending, secretly raised and spent an estimated $9.5 million to help elect Walker in 2010, 2012 and 2014. Americans for Prosperity, which was created to back conservative and Republican causes and candidates around the country, doled out an estimated $4.8 million in 2012 and 2014 to back Walker.
In addition to outside spending, Walker accepted $38.1 million in direct campaign contributions between January 2009 and June 2015 from special interests represented by WMC, which boasts 3,500 member businesses that hail from the energy, manufacturing, insurance, health care, transportation, construction, real estate, banking, tourism, and agriculture sectors, among others.
Many of Walker's top individual contributors between January 2009 and June 2015 hail from those same industries, including Diane Hendricks, of Beloit, Wis., owner of ABC Supply, $529,100; Bob and Doylene Perry, of Houston, Tex., owners of Perry Homes, $500,000; and Richard and Elizabeth Uihlein, of Lake Forest, Ill., owners of U-Line Corp., $284,500.