A half dozen environmental organizations asked the federal government to step up and provide safe drinking water to Kewaunee County residents who have contaminated wells.

Enviro Groups Ask EPA to Step Up in Kewaunee County

March 10, 2016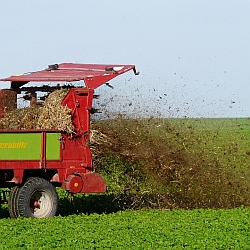 The groups' letter to the U.S. Environmental Protection Agency follows their petition to the agency 17 months ago to intervene in Kewaunee County, where a recent federal study found the drinking water from one in three wells to be unsafe.
The environmental groups, including Midwest Environmental Advocates and Clean Wisconsin, suspect the wells have been polluted from manure spreading, which is done to fertilize the soil. Manure spreading has become a controversial issue around the state, but particularly in Kewaunee County, which is home to 16 factory farms and nearly 100,000 cows that produce more waste than the population of Milwaukee.
The well study results released last December didn't blame the drinking water contamination on manure; a future phase of the study will determine the cause. Since the groups' October 2014 petition to the EPA, the state Department of Natural Resources (DNR) has created work groups made up of agricultural interests, local residents and others to study the problem and recommend solutions.
But to date, no action that practically helps county residents with polluted drinking water has been taken by the federal or state governments.
The DNR under Republican Gov. Scott Walker has been frequently criticized for being too friendly to big business and other special interests at the expense of enforcing clean air, water and other environmental rules.
Agriculture interests contributed nearly $1.9 million to Walker and nearly $922,000 to current legislators between January 2010 and June 2015. Contributions by owners of factory farms, which include large livestock operations and vegetable growers, are among the agriculture industry's top individual campaign contributors.
Owners of three of the 16 Kewaunee County factory farms contributed nearly $9,000 to Walker and current legislators between January 2010 and June 2015. John Pagel, of Kewaunee, owner of Pagel's Ponderosa Dairy and Dairy Dreams LLC, contributed $4,900 to Walker and $2,450 to current legislators and a legislative fundraising committee. Gerald Stahl, of Green Bay, owner of Da-Ran Dairy, contributed $900 to Walker and $600 to current legislators.