Attorney General Brad Schimel Attorney General Brad Schimel A legal opinion by Republican Attorney General Brad Schimel that sharply restricts the state from regulating controversial high-capacity wells is being praised by powerful business and agricultural interests that spent more than $2.2 million to elect him in 2014.

AG's Ruling on Wells Praised by Special Interests that Spent $2.2M to Elect Him

May 11, 2016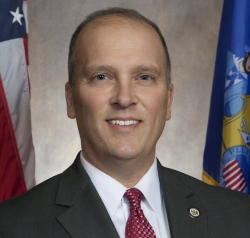 Attorney General Brad Schimel
A legal opinion by Republican Attorney General Brad Schimel that sharply restricts the state from regulating controversial high-capacity wells is being praised by powerful business and agricultural interests that spent more than $2.2 million to elect him in 2014.
Schimel issued the opinion Tuesday at the request of Republican legislative leaders who claimed the state Department of Natural Resources (DNR) was exceeding its authority by considering the cumulative effect that existing high-capacity wells have on lakes, rivers and groundwater when it considered whether to approve applications for new wells.
High-capacity wells pump 100,000 gallons or more of water per day, and are mostly used by large farms, also known as factory farms, and food processors. Environmentalists and other critics say high-capacity wells can deplete groundwater, rivers, lakes and streams, and that Schimel's opinion ignores the state's constitutional obligation to protect public waters.
Schimel's opinion said a 2011 state law passed by the GOP-controlled legislature and Republican Gov. Scott Walker prohibited the DNR and other state agencies from establishing or enforcing environmental and other standards that are not clearly spelled out in state law. The opinion means the DNR cannot even monitor high-capacity well water usage to determine the effect existing wells are having on water supplies in a given area when it considers whether to approve applications for additional wells.
Schimel's decision was praised by Wisconsin Manufacturers & Commerce, the state's largest business group, the Wisconsin Farm Bureau Federation, and Americans for Prosperity, founded and funded by Charles and David Koch.
WMC, which is a top spender on lobbying and legislative and statewide elections, secretly raised and spent an estimated $1.5 million on two television ads – here and here – to support Schimel during the 2014 fall elections.
WMC claims to have 3,500 member businesses that hail from more than a dozen special interest groups, including business, manufacturing, energy, insurance, health care, transportation, construction, real estate, finance, tourism, agriculture, road builders, natural resources and telecommunications. So in addition to WMC's secret outside election spending, the special interests represented by WMC directly contributed nearly $750,000 in large individual and political action committee (PAC) contributions to Schimel in 2013 and 2014, which was about 60 percent of the large special interest campaign contributions he raised to pay for his 2014 election campaign.
Among Schimel's contributions from the agriculture industry in 2013 and 2014 was $4,400 from about a half dozen factory farm owners. Topping the list of Schimel's factory farm contributors was $1,000 each from Todd Willer, of Freedom, John and Keri Vosters, of Freedom, and James Ostrom, of De Pere, all owners of Milk Source, which operates about a half-dozen large farms throughout the state.
In addition to WMC's outside electioneering support, Schimel received nearly $5,100 in outside election support during his 2014 election from the Wisconsin Farm Bureau Federation's political action committee.
Americans for Prosperity, which also secretly raises and spends millions of dollars to spend on outside activities in Wisconsin legislative and statewide races, did not spend money on behalf of Schimel during his 2014 election. The group said Schimel's opinion made it clear that "bureaucrats don't get to make law."
The GOP-controlled legislature asked Schimel for a legal opinion on the matter in March when it was considering a measure, Senate Bill 239, which would allow people who have high-capacity wells to replace, rebuild or move them without state approval. SB239, which failed to pass before the legislature adjourned for the year, and other bills to restrict DNR regulation of high-capacity wells are now no longer needed because attorney general legal opinions are considered correct interpretations of existing law, and may only be overturned in court or changed by the legislature.