A draft of a state environmental report is now available on the effects of a 247-acre golf course planned along the Lake Michigan shoreline by the Kohler Co., whose owner is a major contributor to Republican Gov. Scott Walker.

Golf Course Project by Big Walker Backer Up for Hearing

July 5, 2016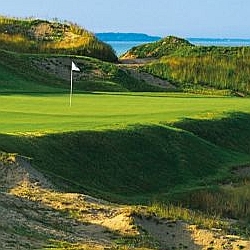 Plans for the high-end 18-hole course announced two years ago by the company proposed using four acres of forest and wetland in the Kohler-Andrae State Park in Sheboygan County to build a golf course maintenance facility and service road.
An easement to use state park lands would have to be approved by the Department of Natural Resources (DNR), which has scheduled a public comment period through Aug. 1 and a July 20 hearing on the environmental impact statement and project. After the hearing and after permit requests are filed by the company, the DNR will prepare a final environmental impact statement, undertake a separate review of the entire project, and then issue a decision on the project.
Kohler Co. employees contributed $58,165 between January 2010 and December 2015 to legislative and statewide candidates. Most of the employee contributions – $46,000 – were made by company Chairman Herbert V. Kohler Jr.,
Herbert Kohler contributed $40,000 to Walker, $2,500 to GOP Lt. Gov. Rebecca Kleefisch, $2,000 to Republican Senate Majority Leader Scott Fitzgerald, of Juneau, and $1,500 to former GOP Sen. Joe Leibham, of Sheboygan.
A group of area residents called Friends of the Black River Forest said it opposes the release of the draft environmental impact statement by the DNR because the Kohler Co. has not filed permit applications with specific plans to build the course.
The project would also require approval by the U.S. Army Corps. of Engineers, which has also notified numerous Indian tribes about ancient Indian artifacts found on the property during a 2015 archeological dig.
Kohler Co. has built two other high-end 18-hole golf courses in Wisconsin – Blackwolf Run and Whistling Straits, which was the site of the PGA Championship in 2004, 2010 and 2015.