Special interest PAC and other political committee contributions to legislative candidates skyrocketed during the first 10 months of 2016 after state campaign finance laws were changed to allow bigger special interest contributions and less transparency.

PAC Contributions Surge in 2016 Amid Higher Limits, Less Transparency

December 5, 2016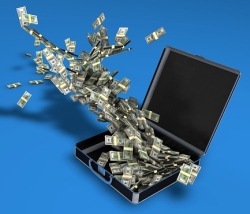 Contributions from special interest PACs and other political committees more than doubled in 2016.  This increase reflects the impact of the 2015 rewrite of the state's campaign fnance law, which allowed larger contributions and less transparency.
The surge in PAC contributions is alarming because dozens of these PACs are controlled by industries, unions and trade groups that also lobby the lawmakers on state policy and spending, often at the expense of the general public.
Campaign finance reports reviewed by the Wisconsin Democracy Campaign that covered fundraising and spending from Jan. 1 through Oct. 24 show:
PACs contributed more than $4.5 million to legislative candidates, which was more than PAC contributions for roughly the same period in the 2014, 2012 and 2010 elections combined. PAC contributions for about the same period in each of those past election years ranged from about $1.3 million to nearly $1.7 million (see bar chart).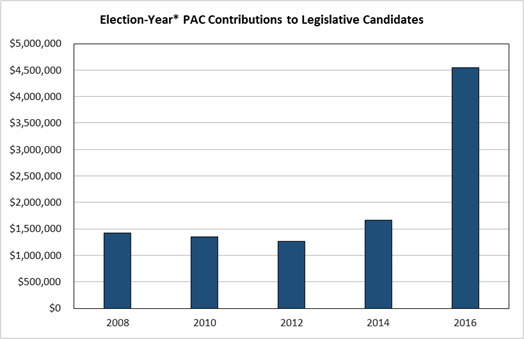 * Totals represent contributions from Jan. 1 through most of October in each year
PAC contributions as a percentage of total contributions to legislative candidates for roughly the first 10 months of 2008, 2010, 2012 and 2014 ranged from 16 percent to 19 percent. In 2016, PAC contributions represented 44 percent of the total amount raised by legislative candidates through Oct. 24.
Unlike the previous election years, some PACs do not have to register and file reports with the state that show how much they raised or contributed to legislative candidates. Nearly four dozen of these PACs contributed more than $300,000 to legislative candidates.  The Wisconsin Democracy Campaign culled the contributions made by these PACs from campaign finance reports filed by the candidates who received the contributions.
The PACs that did not have to report their activity in Wisconsin were controlled by well-known industry titans.  Some of these top PAC contributors to Wisconsin candidates were Humana, BNSF Railway, Wal-Mart, Centene Corp., National Rifle Association, General Motors, John Deere, Monsanto, and Eli Lilly.
The new campaign finance laws also doubled PAC contribution limits to $1,000 for Assembly candidates and $2,000 for Senate candidates.
In another big change - and this one barely got any attention at the time - the new law said that PACs do not have to report their activities if the money they spend in Wisconsin is no more than 50 percent of their entire campaign spending in a year. This means that PACs active in other states or those that contribute a lot to federal candidates do not have to report their activities to the Wisconsin Ethics Commission even if their spending exceeds that of other PACs that do business solely in Wisconsin.
"It's bad enough that Gov. Scott Walker and the Republican-dominated legislature doubled the amount of money that PACs could give," said Matt Rothschild, executive director of the Wisconsin Democracy Campaign.  "But what's even worse is that they snuck a clause into the new law that now allows big national special interest PACs to play by different rules in Wisconsin and to hide their influence-peddling.  This is the first harvest of the new law, and it's a lousy crop for democracy and transparency."