Updated: July 11, 2003
Rep. John H. Ainsworth (R) Shawano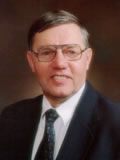 Assembly District 6
Election Notes • Money Sources • Top Contributors • Big Money • PACs
2002 Campaign Finance Summary

* Rep. Ainsworth was first elected in 1990.

* He won a two way primary and was unopposed in the general election. 

* WI Nurses PAC ($187) and WI Right to Life PAC ($205) made independent expenditures benefiting Ainsworth. 

Ainsworth
None
Raised
$11,108
Spent
$9,015
Raised 
$0
Spent
$0
Vote: 99.5%
$0.74/vote
Vote: 0.5%
$0/vote
Independent backing:
$392
Independent backing:
$0

Ainsworth's Committee Assignments

2003-2004: Agriculture; Forestry (Vice-Chair); Highway Safety; Property Rights and Land Management; Recodification of Town Highway Statutes (Co-Chair); Transportation (Chair).

2001-2002: Agriculture; Highway Safety; Rural Affairs and Forestry (Chair); Rural Economic Development Board; Transportation; Ways and Means (Vice-Chair).
Where Did the Money Come From?
Cash-on-hand 1/1/01
$8,916
Self
$0
Under $100
$2,758
$100 or more
$3,872
PACS & Parties
$4,278
Other Income
$200
WECF*
$0
*voluntary spending limit system.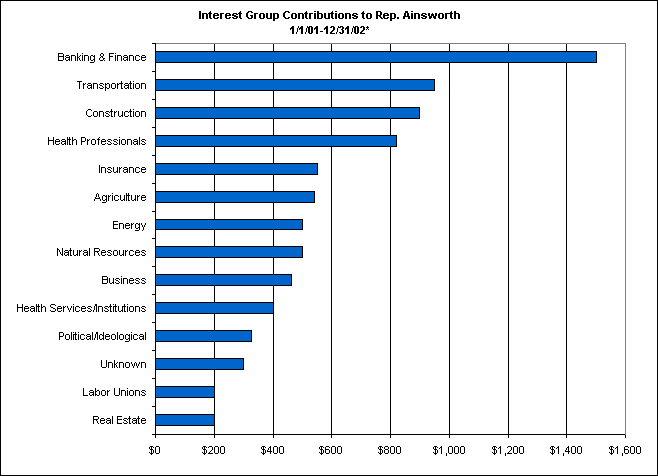 *From individual contributors giving $100 or more per year and all PAC, party and candidate committee contributions.
Who are the top contributors to Rep. Ainsworth?
1/1/93 - 12/31/02
| Contributor | City | Business | Amount |
| --- | --- | --- | --- |
| Huntington, Bert & Carol | Shawano, WI | North Country Mobile Homes | $1,650.00 |
| Knope, Doug & Mrs | Shawano, WI | Toni Co Ltd/Knope Rentals/Knope Roofing & Furnace Co | $1,050.00 |
| Sadoff, Gary & Ron | Fond du Lac, WI | Badger Liquor | $1,000.00 |
| Grunewald, James & Ione | Bonduel, WI | Grunewald Excavating & Logging | $900.00 |
| Rose, Larry & Debbie | Shawano, WI | Kerber, Rose & Associates | $750.00 |
| Bahr, Jim | Bonduel, WI | Club 117 | $550.00 |
| Pensis, Richard W | Bonduel, WI | Countryview Chiropractic | $450.00 |
| Schuelke, Peter J | Bonduel, WI | Countryview Chiropractic | $450.00 |
| Jacobs, John H III & Terry | De Pere, WI | Milksource | $440.00 |
| Stuff, Patrica J | Bonduel, WI | Physician | $420.00 |
Election Notes • Money Sources • Top Contributors • Big Money • PACs