Updated: July 14, 2003
Rep. Gabe Loeffelholz (R) Platteville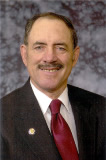 Assembly District 49
Election Notes • Money Sources • Top Contributors • Big Money • PACs
2002 Campaign Finance Summary

* Rep. Loeffelholz was first elected in 2000.

* He was unopposed in the primary and faced Democratic opposition in the general election. 

* Realtors PAC ($2,074), Volunteers for Agriculture ($3,075), WI Builders ($170), and WI Right to Life PAC ($183) made independent expenditures benefiting Loeffelholz. Southwest Education Association ($5,433) and WI Nurses PAC ($15) made independent expenditures favoring his opponent.

Loeffelholz
Siss
Raised
$54,680
Spent
$44,729
Raised 
$28,985
Spent
$23,348
Vote: 56.5%
$5.09/vote
Vote: 43.5%
$3.46/vote
Independent backing:
$5,502
Independent backing:
$5,449

Loeffelholz's Committee Assignments

2003-2004: Agriculture; Education; Government Operations and Spending Limitations (Vice Chair); Rural Development (Chair); Veterans and Military Affairs.

2001-2002: Agriculture; Criminal Justice; Education; Government Operations (Vice Chair); Rural Affairs and Forestry; Transportation.
Where Did the Money Come From?
Cash-on-hand 1/1/01
$932
Self
$0
Under $100
$13,823
$100 or more
$33,495
PACS & Parties
$7,363
Other Income
$0
WECF*
$0
*voluntary spending limit system.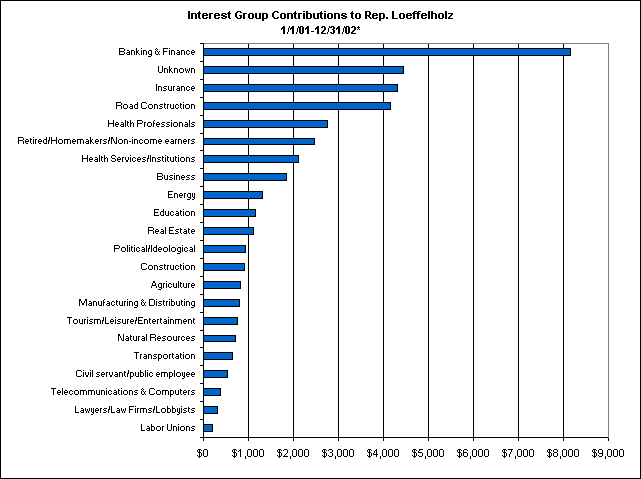 *From individual contributors giving $100 or more per year and all PAC, party and candidate committee contributions.
Who are the top contributors to Rep. Loeffelholz?
1/1/00 - 12/31/02
| Contributor | City | Business | Amount |
| --- | --- | --- | --- |
| Loeffelholz, Gabe & Joyce | Platteville, WI | Legislator/University of Wisconsin | $2,700.00 |
| Bechthold Family | Delafield, WI | Payne & Dolan/Zenith Tech | $1,500.00 |
| Clare, ER & Patrick | Platteville, WI | Clare Bank | $1,100.00 |
| James Family | Fennimore, WI | H James & Sons Inc | $1,050.00 |
| Digman, Roselyn | Platteville, WI | Homemaker | $600.00 |
| Loeffelholz, Adrian | Waunakee, WI | Forward Electric | $600.00 |
| Dietzel, Malinda | Cuba City, WI | Homemaker | $550.00 |
| Trongaard, Mary | Platteville, WI | No Employer Listed | $550.00 |
| Boldt, Wilson | Platteville, WI | Mound City Bank | $525.00 |
| Kreul, Richard | Fennimore, WI | Legislator, Retired | $525.00 |
Election Notes • Money Sources • Top Contributors • Big Money • PACs