Updated: July 1, 2003
Rep. Mark Miller (D) Monona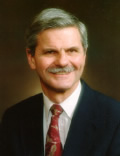 Assembly District 48
Election Notes • Money Sources • Top Contributors • Big Money • PACs
2002 Campaign Finance Summary

* Rep. Miller was first elected in 1998.

* He was unopposed in the primary and faced Libertarian opposition in the general election. 

* Human Rights League PAC ($9) and WI Nurses PAC ($113) made independent expenditures benefiting Miller. 

Miller
Gray
Raised
$15,602
Spent
$11,467
Raised 
$0
Spent
$0
Vote: 83.7%
$0.68/vote
Vote: 16.2%
$0/vote
Independent backing:
$122
Independent backing:
$0

Miller's Committee Assignments

2003-2004: Budget Review; Children and Families; Health; Natural Resources; Recodification of Chapter 55, Placement and Services for Persons with Disabilities; The Public Health System's Response to Terrorism and Public Health Emergencies; Veterans and Military Affairs

2001-2002: Children and Families; Environment; Environmental Education Board; Health; Natural Resources.
Where Did the Money Come From?
Cash-on-hand 1/1/01
$3,633
Self
$0
Under $100
$3,989
$100 or more
$3,850
PACS & Parties
$850
Other Income
$0
WECF*
$6,913
*voluntary spending limit system.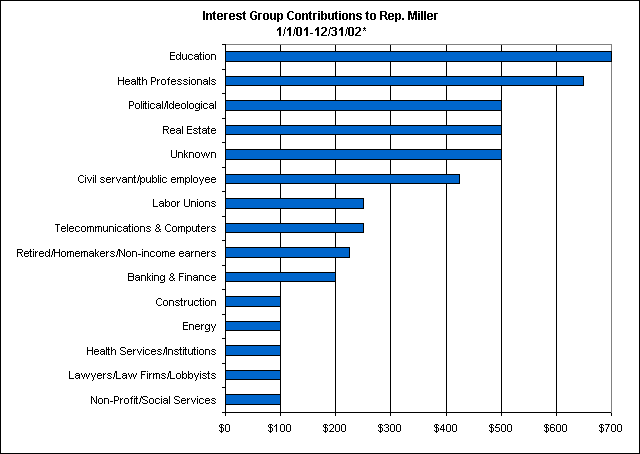 *From individual contributors giving $100 or more per year and all PAC, party and candidate committee contributions.
Who are the top contributors to Rep. Miller?
1/1/98 - 12/31/02
| Contributor | City | Business | Amount |
| --- | --- | --- | --- |
| Bowles, B Dean & Ann | Monona, WI | University of Wisconsin | $800.00 |
| Miller, Sterling & Suzanne | Lolo, MT | National Wildlife Federation | $800.00 |
| Veasey, Chance & Keiko | Minneapolis, MN | NETASPX/University of Minnesota | $750.00 |
| Miller, Mark | Monona, WI | Legislator | $700.00 |
| Baldwin, Elizabeth | Atlanta, GA | Transnet | $500.00 |
| Fienen, Chandra | San Francisco, CA | Student | $500.00 |
| McNabb, Brent | Madison, WI | Madison Chiropractic | $500.00 |
| Miller, Jeffrey | Madison, WI | Madison Fire Dept | $500.00 |
| Rosenberg, L Stuart | Monona, WI | Wisconsin Builders Association | $500.00 |
| Thurmaier, Matthew | Madison, WI | Computer Classroom | $500.00 |
Election Notes • Money Sources • Top Contributors • Big Money • PACs