Updated: July 11, 2003
Senator Tom Reynolds (R) West Allis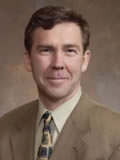 Senate District 5
Election Notes • Money Sources • Top Contributors • Big Money • PACs
2002 Campaign Finance Summary

* Senator Reynolds was first elected in 2002.

* He won a two way primary against the incumbent and faced Democratic opposition in the general election. 

* Healthy Wisconsin ($738), Pro-Life Victory Fund ($113), Tosans for Responsible Govt ($1,619), and WI Right to Life PAC ($2,373) made independent expenditures benefiting Reynolds. Human Rights League PAC ($9), Planned Parenthood Advocates of WI ($1,351), and WI Nurses PAC ($87) made independent expenditures favoring his opponent. Citizens for Clean and Responsible Government spent $8,044 promoting a write-in candidacy for Peggy Rosenzweig, the Republican incumbent defeated in the primary, in an attempt to aid Reynolds' opponent by taking away Republican votes.

*The Democratic Leadership Campaign Committee spent undisclosed amounts on "issue ads" attacking Reynolds.

Reynolds
Christenson
Raised
$215,344
Spent
$204,480
Raised 
$146,708
Spent
$146,109
Vote: 52.9%
$6.45/vote
Vote: 46.7%
$5.21/vote
Independent backing:
$4,844
Independent backing:
$9,492

Reynolds' Committee Assignments

2003-2004: Education, Ethics and Elections; Labor Small Business Development and Consumer Affairs (Chair); Retirement Research; Joint Survey on Retirement Systems; Small Business Environmental Council.

2001-2002: Not yet elected.
Where Did the Money Come From?
Cash-on-hand 1/1/99
$0
Self
$63,369
Under $100
$20,144
$100 or more
$108,137
PACS & Parties
$23,693
Other Income
$0
WECF*
$0
*voluntary spending limit system.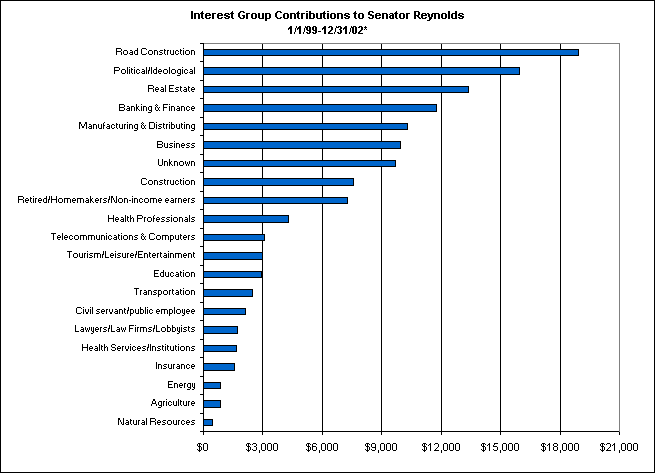 *From individual contributors giving $100 or more per year and all PAC, party and candidate committee contributions.
Who are the top contributors to Senator Reynolds?
1/1/02 - 12/31/02
| Contributor | City | Business | Amount |
| --- | --- | --- | --- |
| Reynolds, Tom | West Allis, WI | Legislator/Endeavor Press | $63,369.47 |
| Zignego Family | Helenville, WI | Zignego Co | $18,500.00 |
| Reynolds, Gary & Gail | Delafield, WI | GMR Marketing | $2,000.00 |
| Radtke, Thomas & Robert | Winneconne, WI | Bob Radtke Inc | $1,750.00 |
| Salamone, James & Barbara | New Berlin, WI | Northern Ozaukee Public Schools | $1,750.00 |
| Hahm, Robert | Pewaukee, WI | Sign People | $1,250.00 |
| Hiller, Jaren & John | Milwaukee, WI | Hiller Co | $1,100.00 |
Election Notes • Money Sources • Top Contributors • Big Money • PACs