Updated: July 11, 2003
Senator Judith Robson (D) Beloit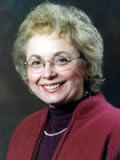 Senate District 15
Election Notes • Money Sources • Top Contributors • Big Money • PACs
2002 Campaign Finance Summary

* Senator Robson was first elected to the Assembly in a June 1987 special election and to the Senate in 1998.

* She was unopposed in the primary and faced Republican opposition in the general election. 

* WI Nurses PAC ($38) made independent expenditures benefiting Robson. Pro-Life Victory Fund ($373) and WI Right to Life PAC ($183) made independent expenditures favoring her opponent. 

Robson
Black
Raised
$133,726
Spent
$114,338
Raised 
$22,538
Spent
$21,985
Vote: 64.7%
$3.41/vote
Vote: 35.3%
$1.20/vote
Independent backing:
$38
Independent backing:
$556

Robson's Committee Assignments

2003-2004: Review of Administrative Rules; Joint Review of Administrative Rules; Agriculture, Financial Institutions and Insurance; Education, Ethics and Elections; Health, Children, Families, Aging and Long-Term Care; Improving Wisconsin's Fiscal Management; The Public Health System's Response to Terrorism and Public Health Emergencies (Chair); Wisconsin Artistic Endowment Foundation; Women's Council.


2001-2002: Joint Review of Administrative Rules (Co-Chair); Review of Administrative Rules (Chair); Human Services and Aging (Chair); Joint Audit; Audit; Education; Health, Utilities, Veterans and Military Affairs; Joint Legislative Council; Migrant Labor Council.
Where Did the Money Come From?
Cash-on-hand 1/1/99
$6,723
Self
$0
Under $100
$43,398
$100 or more
$69,436
PACS & Parties
$8,017
Other Income
$4,776
WECF*
$8,100
*voluntary spending limit system.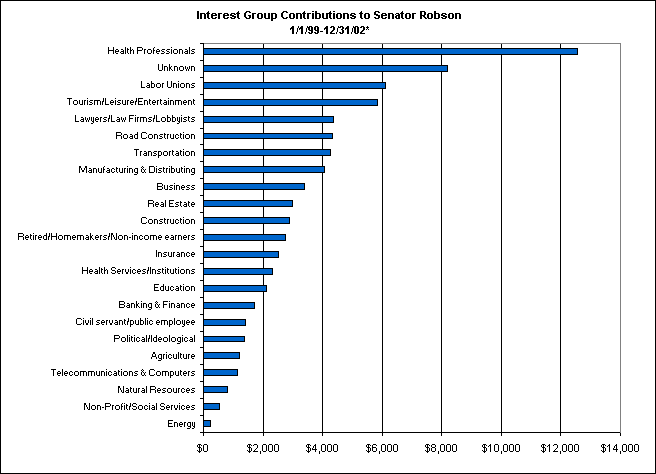 *From individual contributors giving $100 or more per year and all PAC, party and candidate committee contributions.
Who are the top contributors to Senator Robson?
1/1/93 - 12/31/02
| Contributor | City | Business | Amount |
| --- | --- | --- | --- |
| Magnus, Geoffrey & Elizabeth | Beloit, WI | Associates in Psychotherapy | $2,050.00 |
| Cornellier, Larry | Beloit, WI | Cornellier Fireworks | $1,700.00 |
| Kennedy Family | Janesville, WI | Rock Road Companies | $1,458.00 |
| Reinicke, Alan & Lisa | Beloit, WI | Reinicke Clinic | $1,400.00 |
| Coburn, James & Virginia | Whitewater, WI | Coburn Inc | $1,350.00 |
Election Notes • Money Sources • Top Contributors • Big Money • PACs