Updated: July 11, 2003
Senator Cathy Stepp (R) Sturtevant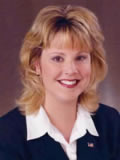 Senate District 21
Election Notes • Money Sources • Top Contributors • Big Money • PACs
2002 Campaign Finance Summary

*Senator Stepp was first elected in 2002.

* She won a two way primary and faced a Democratic incumbent in the general election. 

* WI Builders ($30,000) and WI Right to Life PAC ($296) made independent expenditures benefiting Stepp. Planned Parenthood Advocates of WI ($1,351), Sierra Club of Wisconsin ($3,556), and WI Nurses PAC ($58) made independent expenditures favoring her opponent. 

*Coalition for America's Families spent undisclosed amounts on "issue ads" attacking her opponent.

Stepp
Plache
Raised
$357,872
Spent
$349,603
Raised 
$337,562
Spent
$345,615
Vote: 50.7%
$13.78/vote
Vote: 49.1%
$14.05/vote
Independent backing:
$30,296
Independent backing:
$4,965

Stepp's Committee Assignments

2003-2004: Economic Development, Job Creation and Housing (Chair); Education, Ethics and Elections; Environment and Natural Resources; Judiciary, Corrections and Privacy; State Supported Programs and Advisory; Wisconsin Housing and Economic Development Authority.

2001-2002: Not yet elected.
Where Did the Money Come From?
Cash-on-hand 1/1/99
$0
Self
$25,120
Under $100
$18,152
$100 or more
$293,592
PACS & Parties
$21,008
Other Income
$0
WECF*
$0
*voluntary spending limit system.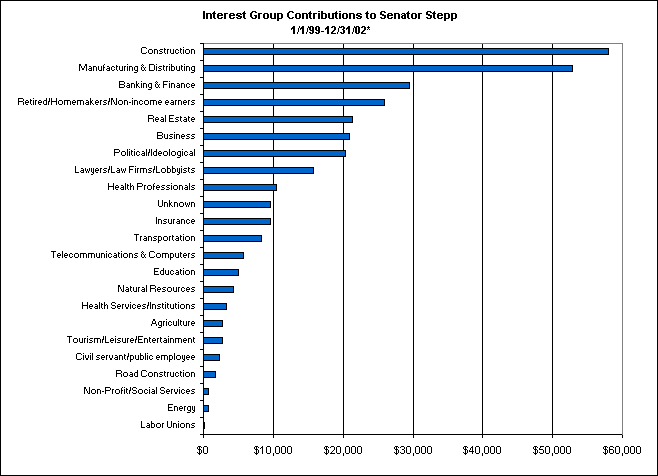 *From individual contributors giving $100 or more per year and all PAC, party and candidate committee contributions.
Who are the top contributors to Senator Stepp?
1/1/02 - 12/31/02
| Contributor | City | Business | Amount |
| --- | --- | --- | --- |
| Stepp, Cathy | Sturtevant, WI | Legislator/First Stepp Builders | $25,120.00 |
| Ziegler Family | West Bend, WI | BC Ziegler Co/Ziegler-Limbach Inc | $4,000.00 |
| Radtke, Thomas & Muriel | Winneconne, WI | Bob Radtke Inc | $2,250.00 |
| Dade, Kenneth & Karen | South Beloit, IL | KD Enterprises | $2,000.00 |
| Davies, David & David Jr | Racine, WI | DW Davies & Co | $2,000.00 |
| Jansson, Peter & Karen | Racine, WI | Jansson, Shupe & Munger | $2,000.00 |
| Kohler, Terry & Mary | Sheboygan, WI | Windway Capital | $2,000.00 |
| Namowicz, Steve & Tom | Racine, WI | Warren Industries | $2,000.00 |
| Obernberger, David & Bonnie | Racine, WI | Creative Insurance Planning | $2,000.00 |
| Perez, William & Catherine | Racine, WI | Johnson Wax/St Katharine High School | $2,000.00 |
| Reynolds, Jim & Ellie | Racine, WI | Cast Tools | $2,000.00 |
| Styza, Bryce & Stephen | Waukesha, WI | Harmony Homes | $2,000.00 |
| Walker, Bill & Mary | Racine, WI | Walker Forge | $2,000.00 |
| Wendt, Kenneth & Patricia | Land O'Lakes, WI | Windway Capital | $2,000.00 |
| Young, Fred & Sandra | Racine, WI | Retired/Writer | $2,000.00 |
Election Notes • Money Sources • Top Contributors • Big Money • PACs