Americans overwhelmingly support proposals to require that broadcasters provide free television time for candidates to discuss issues just before elections, according to a nationwide survey by the Pew Research Center for the People and the Press in Washington, DC.

Public Supports Free Air Time, New Poll Shows
But Few Know Public Owns Airwaves & Broadcasters Get Free Licenses
June 11, 2002
Madison -
The poll results come a week before Senators John McCain (R-Arizona) and Russ Feingold (D-Wisconsin) plan to introduce a free air time bill that would reduce the cost and increase the flow of political information on the dominant medium for political communication.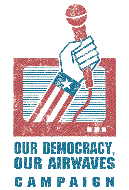 The Pew survey found that 73 percent support free air time, with 20 percent opposed and 7 percent having no opinion. The poll also found that just 31 percent of Americans realize that the public owns the airwaves, and that 70 percent mistakenly assume that broadcasters pay license fees to use assigned frequencies on the airwaves, while just 11 percent know they get them for free. To read the survey, go to www.people-press.org.

The draft of the bill being prepared by Senators McCain and Feingold would require all television and radio stations to air at least two hours a week of candidate-centered programming - such as debates, interviews and town hall meetings - prior to elections. It would also create a voucher system to enable qualifying candidates and parties to place a reasonable number of free ads on radio and television. The vouchers would be financed by a spectrum usage fee on broadcasters.

McCain and Feingold will unveil the bill at a press conference on Wednesday, June 19 in Washington, DC. They will be joined by leaders of the Free Air Time Coalition, a nationwide coalition of civic, public interest and campaign reform groups.
The Wisconsin Democracy Campaign is leading the Free Air Time Coalition's efforts in Wisconsin. WDC has organized a forum on free air time to be held on the University of Wisconsin-Oshkosh campus on Thursday, September 26, and is working to plan forums at other locations around the state. The Democracy Campaign also is recruiting free air time activists and collecting signatures on a Free Air Time Declaration. For more on WDC's involvement, click here.
2 More Organizations Join to Bring State Coalition to 19 Groups
The Wisconsin State AFL-CIO and Wisconsin Interfaith IMPACT are the two most recent additions to the Wisconsin Free Air Time Coalition. Other groups in the coalition are the Wisconsin Democracy Campaign, AARP, Coalition of Wisconsin Aging Groups, League of Women Voters of Wisconsin, Common Cause in Wisconsin, Wisconsin Citizen Action, Sierra Club - John Muir Chapter, Wisconsin Council on Children and Families, Wisconsin Coalition for Advocacy, Wisconsin Public Interest Research Group, Citizens' Utility Board, Wisconsin Federation of Teachers, Wisconsin Retired Educators' Association, National Farmers Organization - WI, American Association of University Women - WI, Lutheran Office for Public Policy in Wisconsin and the Clean Water Action Council.
For more on free air time, see Free Air Time Facts.