Local television stations in Wisconsin's three largest TV markets have aired close to 36,000 political ads this year and charged candidates, parties and issue groups $12.8 million for the air time, according to figures released today by the Wisconsin Democracy Campaign.

Final Tally Shows 36,000 Ads Aired in State's Top 3 TV Markets at Cost of $12.8 Million

November 12, 2002

Madison -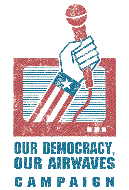 Through Election Day, $12,751,734 was spent this year to air 35,644 ads on stations in Milwaukee, Green Bay and Madison. The most ads ran on Madison stations, where 12,268 ads aired from January 1 through November 5 at a cost of $3,137,823. Milwaukee stations charged the most for political ads, taking in $6,742,981 to air campaign ads 11,379 times. Green Bay stations took in $2,870,930 for 11,997 ads. The figures obtained by the Wisconsin Democracy Campaign were compiled by the Campaign Media Analysis Group (CMAG), a private firm that tracks political advertising on television. (See table below.)
CMAG's figures provide only a partial accounting of total spending on political ads in Wisconsin because the firm monitored 16 of the state's 41 TV stations in the largest three markets among the state's seven television markets.
Nationally, candidates, parties and issue groups spent $995.5 million to air 1,497,386 ads on 561 stations in the nation's top 100 markets through November 5.
The cost of TV ads fueled record spending in Wisconsin's race for governor. Candidates spent at least $17.75 million with some spending yet to be reported, WDC executive director Mike McCabe said. Special interest groups spent millions more on their own independent campaigns in the race, bringing total spending to at least $21.5 million, McCabe added. The previous record for spending in a race for governor was $8.1 million in 1998.
"If you wonder what happened to Wisconsin politics, the obvious answer is TV happened. The cost of TV ads is the driving force behind runaway campaign spending, and the political arms race is the root cause of the corruption scandal in the Capitol," McCabe said.
Recently introduced federal legislation aims to free candidates from the need to raise such huge sums of campaign money in order to communicate with voters. Last month, U.S. Senators John McCain, Russ Feingold and Richard Durbin introduced S. 3124, the Political Campaign Broadcast Activity Improvement Act, in the Senate. The bill requires TV and radio stations, as part of the public interest obligation they incur when they receive a free broadcast license, to air at least two hours a week of candidate-centered or issue-centered programming during the period before elections. It also would provide qualified candidates and parties up to $750 million worth of broadcast vouchers that could be used to place political advertisements on television and radio stations in each two-year election cycle. In addition, the legislation closes loopholes in the "lowest unit cost" provision in federal law to ensure that candidates receive the same advertising rates that stations give to their high-volume, year-round advertisers.
"Candidates for public office shouldn't have to sell their souls to wealthy special interests in order to be able to talk to voters. The airwaves belong to the public and broadcasters have been given exclusive use of the airwaves free of charge. They have reaped windfall profits from this arrangement," McCabe said, citing Federal Communications Commission figures showing the profits of the nation's TV stations averaged 33 percent, compared to average profits of 6.8 percent for Fortune 500 companies. "Broadcasters are supposed to serve the public interest in exchange for their free licenses. It is hardly in the public interest to force political candidates to prostitute themselves."
Number and Cost of Political Ads by Station
January 1 to November 5, 2002
Station
Number of Ads
Estimated Cost
 
 
 
WPXE (PAX)
154
$29,221
WCGV (UPN)
125
$52,702
WVTV (WB)
126
$73,998
WDJT (CBS)
1,496
$690,648
WISN (ABC)
2,645
$1,302,693
WITI (Fox)
3,227
$1,547,474
WTMJ (NBC)
3,606
$3,046,245
Milwaukee Total
11,379
$6,742,981
 
 
 
WIWB (WB)
66
$11,539
WLUK (Fox)
1,969
$290,598
WGBA (NBC)
2,387
$355,608
WBAY (ABC)
3,229
$848,213
WFRV (CBS)
4,346
$1,364,972
Green Bay Total
11,997
$2,870,930
 
 
 
WMSN (Fox)
745
$113,769
WKOW (ABC)
3,356
$627,741
WMTV (NBC)
4,474
$1,164,237
WISC (CBS)
3,693
$1,232,076
Madison Total
12,268
$3,137,823
Source: Campaign Media Analysis Group and the Alliance for Better Campaigns