Many Democrats who supported the deal to keep the Bucks in Milwaukee have benefited from campaign contributions from special interests behind it.

Special Interests That Backed Bucks Arena Gave $285K+ to Dems Who Supported Deal

August 26, 2015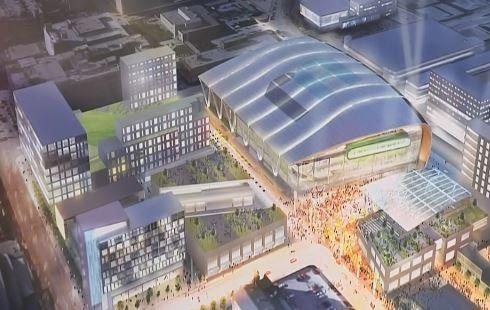 Two Democratic legislative fundraising committees and 23 Democratic legislators who backed a bill that devotes $250 million in public dollars toward a new Milwaukee Bucks arena received nearly $285,000 in recent years from construction, labor, tourism, real estate and other special interests that supported the project.
The measure, Senate Bill 209, that OK'd the state's share of the $500 million downtown Milwaukee project was approved by the GOP-controlled legislature in late July and signed by Republican Gov. Scott Walker earlier this month.
The bill was approved 52-34 in the Assembly and 21-10 in Senate, but would have likely failed without Democratic support. Republicans controlled the Assembly by a 63-36 margin, but about two dozen GOP lawmakers opposed the arena deal or did not vote. Republicans also controlled the Senate 19-14, but three GOP lawmakers opposed the bill and one Republican lawmaker did not vote.
Legislative approval came within days after the project drew public support from a handful of construction industry unions (identified here and here), MillerCoors and We Energies. In addition, state trade organizations representing the construction, real estate and tourism industries and other special interests also lobbied in support of the project. The unions, which traditionally support mostly Democratic candidates, and some Milwaukee area business leaders, claimed the project would create jobs and provide other economic benefits.
Two Democratic fundraising committees used by Senate and Assembly Democratic legislative leaders to milk special interests for campaign cash to spend on elections topped the list of campaign contributions between January 2011 and December 2014 from special interests that backed the Bucks arena project (see table below). The State Senate Democratic Committee received more than $80,000 and the Assembly Democratic Campaign Committee received nearly $78,000. Democratic Senate Minority Leader Jennifer Shilling of La Crosse and Democratic Assembly Minority Leader Peter Barca of Kenosha, who control the fundraising committees, were among the 23 Democratic lawmakers who voted for the bill. Shilling received about $17,600 and Barca accepted nearly $4,700 from special interests that backed the Bucks deal.
Tourism interests contributed about $93,500 to the Democratic legislators who backed the bill and their fundraising committees, followed by the real estate industry at about $83,100, construction interests at nearly $50,000, and labor unions at about $36,200.
Contributions by Special Interests That Supported the Milwaukee Bucks Arena Deal to Democratic Lawmakers and Fundraising Committees that Backed the Bill
Name
Office
Amount
State Senate Democratic Committee
S
$80,588
Assembly Democratic Campaign Committee
A
$77,820
Kahl, Robb
A47
$25,632
Shilling, Jennifer
S32
$17,613
Taylor, Lena C
S04
$11,778
Ringhand, Janis
S15
$7,630
Erpenbach, Jon
S27
$6,485
Zepnick, Josh
A09
$6,049
Hintz, Gordon
A54
$5,350
Zamarripa, JoCasta
A08
$5,279
Ohnstad, Tod
A65
$5,135
Goyke, Evan
A18
$5,050
Barca, Peter
A64
$4,670
Jorgensen, Andy
A43
$4,600
Harris Dodd, Nikiya
S06
$4,080
Young, Leon
A16
$3,250
Larson, Chris
S07
$2,816
Mason, Cory
A66
$2,766
Barnes, Mandela
A11
$1,931
Johnson, La Tonya
A17
$1,700
Wachs, Dana
A91
$1,350
Spreitzer, Mark
A45
$1,300
Sinicki, Christine
A20
$750
Subeck, Lisa
A78
$750
Kessler, Frederick P
A12
$300
TOTAL
$284,672