Facts about political campaign costs and broadcast air time.

Five Free Air Time Facts . . . And One Proposal

June 11, 2002
1. MOST AMERICANS SUPPORT FREE AIR TIME
Q. As you may know, there have been proposals in recent years to require broadcasters to provide free televison air time before elections for the candidates to discuss the issues. Would you favor or oppose such a proposal?

Poll conducted by Pew Research Center for the People and the Press, May 2002 (www.people-press.org).
In 2001, the National Issues Forum held a series of community forums in 44 states to discuss the problem of money in politics. Among participants aged 18 or over, free air time was supported by 72 percent - making it the most popular of all proposals.
Require TV & radio to give free air time to candidates [72%]
Forbid lawmakers from accepting gifts from lobbyists [71%]
Impose strict contribution limits on citizens and special interests [70%]
Make it easier for voters to recall elected officials [56%]
Let candidates raise unlimited amounts, but enforce disclosure [45%]
Lift all restrictions on campaign fundraising [36%]


Percentage of adults favoring reform. See nifi.org.
2. FREE AIR TIME IS THE MOST WIDELY-USED CAMPAIGN FINANCE REGULATION IN THE WORLD
Countries with free air time:
Countries without
free air time:
Argentina
Finland
Paraguay
 
Australia
France
Peru
Ecuador
Bahamas
Germany
Poland
Honduras
Barbados
Ghana
Portugal
Malaysia
Belgium
Greece
Russia
Taiwan
Bolivia
Guatemala
Senegal
Tanzania
Botswana
India
South Africa
Trinidad & Tobago
Brazil
Israel
South Korea
United States
Canada
Italy
Spain
 
Chile
Lebanon
Sweden
 
Colombia
Malta
Switzerland
 
Costa Rica
Mexico
Turkey
 
Czech Republic
The Netherlands
Ukraine
 
Denmark
New Zealand
United Kingdom
 
Dominican Republic
Nicaragua
Uruguay
 
El Salvador
Norway
Venezuala
 
Fiji Islands
Panama
Zimbabwe
 
 
A 2001 survey of campaign finance laws in 60 countries by the International IDEA Political Finance Project found free air time was more prevalent than disclosure regulation, bans on corporate contributions, spending limits, contribution limits, or public financing. See www.idea.int.
3. THE COST OF AIR TIME IS THE BIGGEST REASON THAT CAMPAIGNS HAVE BECOME SO EXPENSIVE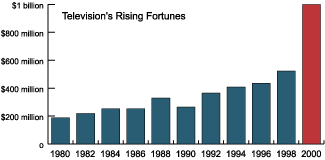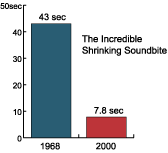 Television stations took in an estimated $1 billion from political ad sales in 2000, quadruple their take from the 1980 campaign (all figures inflation-adjusted). Meantime, shrinking political coverage on the network news reduced the length of the average candidate soundbite to less than 8 seconds in 2000. For more information, see www.cmpa.com.
4. MOST AMERICANS DON'T REALIZE THAT THE PUBLIC OWNS THE AIRWAVES
Q. Now I'd like to ask you a few questions about the nation's airwaves, which broadcasters use to transmit television and radio signals. Do you happen to know if television and radio stations own the airwaves, or are they owned by the public?

Poll conducted by Pew Research for the People and the Press, May 2002. See www.people-press.org.
5. AMERICANS MISTAKENLY BELIEVE THAT BROADCASTERS PAY LICENSE FEES
Q. Television and radio stations are required to obtain licenses from the federal government to broadcast over the airwaves. Do you think television and radio stations pay the government each year for these licenses, or do the stations get them for free?

Poll conducted by Pew Research Center for the People and the Press, May 2002. See www.people-press.org.
A Free Air Time Proposal

SENATORS JOHN MCCAIN AND RUSSELL FEINGOLD WILL INTRODUCE A FREE AIR TIME BILL THAT HAS TWO PARTS:
1. Require all television and radio stations to air at least two hours a week (one of which would be in or near prime time) of candidate issue discussion in the month before an election. The stations would choose the formats they preferred – debates, interviews, town hall meetings, etc.
2. Provide qualifying candidates and parties with vouchers to run a limited number of free ads on television and radio. The vouchers would be financed by a small spectrum usage fee on the broadcast industry.