With the dawning of the age of unlimited election spending and Super PACs and dark money, not to mention the ever-expanding war on voting, the risk of democracy being stolen has never been greater in living memory.

The Money Or the Many . . . That's the Choice

Email date: 12/13/12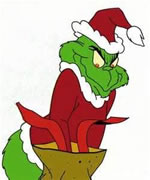 You're a foul one, Super PAC. . . .
Never in our lifetimes has it been more important to shine light on the crooked political money game. Never before has it been more necessary to hold power accountable. Never has there been a greater need to speak truth to power.
Following the money. That's the Democracy Campaign's bread and butter. Exposing corruption and blowing the whistle on wrongdoing. That's our reason for being. Speaking out without fear or favor about what's gone haywire in our political system and what needs to be done to set things straight. Another of our specialties.
I hope you will take a look at our annual report. And I hope you agree that the work described in this report is valuable. So valuable that you will help us keep doing it.
It hasn't been easy for the Democracy Campaign to raise funds lately. As the threats to democracy get bigger, finding the funding to sustain the fight is getting substantially more challenging. As it is with all nonprofits, the holiday season is crucial to us. Nearly half of charitable donations to nonprofits nationally come in the last six to eight weeks of the year.
Please consider making a generous year-end gift to help us finish 2012 in good financial shape and start the new year on the right foot. Donations to the Democracy Campaign are fully tax deductible.
Thanks for your support . . . and happy holidays from all of us at the Democracy Campaign.
Mike McCabe
Executive Director