As fascist as Donald Trump has acted since his Inauguration, he'll need people to roll over for him to truly become a dictator. Here are 10 good signs that's not happening.

10 Good Omens Since Trump's Inauguration
by Matthew Rothschild, Executive Director
January 30, 2017
1. The Women's Marches
The massive Women's March on Washington on January 21 and the correspondingly massive protests all across the country (at least 75,000 in the march in Madison, WI, that I attended) were a powerful shot across Trump's bow.
2. The airport protests
The spontaneous protests that erupted within hours on Jan. 28 at JFK, O'Hare, and other airports across the United States to defend the rights of refugees showed that many Americans are not going to go along with Trump's scapegoating.
3. The judge's order
Federal District Court Judge Ann M. Donnelly, by imposing a stay on Trump's order, issued a crucial reminder to the country that Trump is threatening the Constitution and that the judiciary has a vital role to play in stopping him.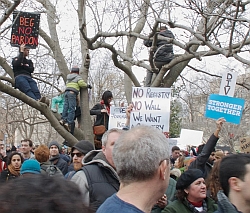 4. Other daring, nonviolent protests
Other protests around the country on a variety of issues, from immigration to health care and the environment, showed that the necessary spirit of nonviolent resistance is alive and well. Greenpeace's audacious hanging of a "Resist" sign off a crane so it was visible right above the White House was one such example.
5. The press gets a spine
After Trump declared war on the press and on truth itself, some members of the mainstream press got a spine and stood their ground. On "Meet the Press," Chuck Todd famously scoffed at Kellyanne Conway's "alternative facts," saying, "Look, alternative facts are not facts. They're falsehoods."
The New York Times ran a headline on Tuesday that didn't mince words: "Trump Repeats a Lie about Popular Vote."
And after Steve Bannon told the media to "keep its mouth shut," Jake Tapper instantly and mockingly said no, and CNN's chief international correspondent Christiane Amanpour said that such a demand was reminiscent of "totalitarian regimes."
6. Grassroots organizing is under way
All across the country, people are meeting in small groups to strategize about how to resist Trump and to build grassroots networks that will stand as a bulwark against any repressive steps he takes. These groups may form the basis for a mass, diverse, multi-issue coalition that could also move politics in the United States in a fundamentally progressive direction.
7. George Orwell's "1984" sales jump 9,500 percent
People are hungry to figure out what's going on – and how close we are to the cliff – here in the United States, as sales of "1984" illustrated. Studying the history of dictatorships and fascism is a vitally important step in being able to respond effectively at this delicate moment. In this regard, I also highly recommend "The Anatomy of Fascism," by Robert O. Paxton.
8. The Pope speaks out
Pope Francis has been barely able to bite his tongue, which is a good thing. After Trump's executive order on refugees came out, the Pope, without naming Trump, highlighted "the contradiction of those who want to defend Christianity in the West, and, on the other hand, are against refugees and other religions. …The sickness or, you can say the sin, that Jesus condemns most is hypocrisy, which is precisely what is happening when someone claims to be a Christian but does not live according to the teaching of Christ. You cannot be a Christian without living like a Christian." It was clear to everyone who the Pope was talking about.
9. Leftwing intellectuals step up
Since Trump's Inauguration, some of our leading leftwing intellectuals and media leaders, such as Noam Chomsky, Amy Goodman, Naomi Klein, Bill Moyers, and Robert Reich, have been offering a steady supply of crucial information and nourishing insights.
10. A few Republicans break ranks
On torture, John McCain said: "The President can sign whatever executive orders he likes. But the law is the law. We are not bringing back torture in the United States of America."
And on the refugee ban, Nebraska Senator Ben Sasse and Representatives Justin Amash of Michigan and Charlie Dent of Pennsylvania spoke out against Trump's refugee ban.
Oops, I forgot an 11th, and I'm sure you can add more yourself. But here's one I shouldn't have missed:
11. Mayors defy Trump on sanctuary cities
My mayor, Paul Soglin of Madison, along with others around the country in such cities as Austin, Texas, Chicago, LA, New Haven, and Syracuse, New York, showed they wouldn't be pushed around by Trump and defended their humane immigration policies, even under blackmail.