Three utilities contributed $50,660 to Governor Jim Doyle's campaign shortly before and after the state approved their controversial coal plant and electrical transmission line projects, a Wisconsin Democracy Campaign analysis shows.

Utility Projects Fire Up Contributions to Doyle
Utilities Send $50,000 governor's way amid favorable state decisions
November 18, 2004
Madison -
Individual and political action committee contributions from all gas and electric utilities to Doyle, a Democrat, have increased 17-fold since 2002. Between 1995 and 2001, Doyle received only $7,911 from utilities. Between 2002 and June 30, 2004, the industry gave Doyle $133,323.
Much of that money, nearly $87,923, flowed to Doyle when his campaign least needed it in 2003 and the first half of 2004, a period after his 2002 election and well before any 2006 bid for reelection.
The timing of contributions during this period from three utilities coincides with favorable state decisions on projects that will reap the companies millions of dollars in profits in the long term. It also coincides with favorable legislation to the industry overall that was signed by Doyle.
Specifically, the WDC analysis found:
Wisconsin Energy Corporation executives contributed $23,050 to Doyle's campaign between December 2003 and June 30, 2004 following a November 2003 decision by the Public Service Commission to allow the utility to build two coal plants in Oak Creek. Doyle accepted $9,100 in contributions from the utility's executives in December after the PSC's November 10 decision to let the utility build the plants. The project has drawn a firestorm of protests over concerns about increased pollution and adverse affects on public health. The federal government already has determined that air quality in the seven-county area where the plants will be located is below federal standards.

Doyle has received more individual and PAC contributions from Wisconsin Energy - $51,581 - than any other current or past Wisconsin politician, and he got most of it - $47,720 - from 2002 when he was elected through June 2004 (see chart 1 below). Former Republican Governor Tommy Thompson was second with $34,540 in contributions from the utility over eight years, from 1993-2000.
Chart 1

* Figure represents contributions through June 2004.
Employees of Wisconsin Public Service Corporation and the American Transmission Company contributed $32,480 to Doyle from 2002 through June 2004 compared to only $500 between 1995 and 2001 (see chart 2 below). The pair has teamed up to build a controversial 220-mile electrical transmission line to connect Duluth, Minnesota and Wausau. WPS also recently broke ground, with Doyle on hand, for a new coal plant south of Wausau that has raised health and environmental concerns similar to those from the Wisconsin Energy project.
Chart 2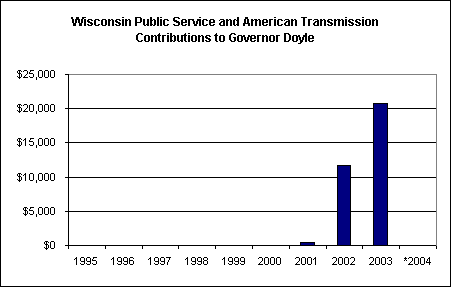 * Figure represents contributions through June 2004.
The utilities' executives contributed $11,340 to Doyle's campaign between late October 2002 and January 2003, which coincided with a request by the utilities to state regulators to revise the transmission line project and approve increased costs.

The utilities later contributed another $16,270 to Doyle between August and December 2003 while the Public Service Commission was considering the utilities' request. On December 15, 2003, the commission approved the project again along with a cost that skyrocketed from an initial $165 million to $420 million. The contributions also coincide with Wisconsin Public Service's proposal to the commission for its new coal plant near Wausau, which was approved in September 2004.
In the first half of 2004 Doyle accepted $40,868 in overall utility industry contributions - the second highest categorical amount of special interest contributions to him behind attorneys. The contributions were made amid legislation favorable to utilities that was introduced in mid-February 2004, passed by the Legislature and signed into law by Doyle in mid-March. The law allows utilities to borrow money at a substantially cheaper rate than traditional financing.

The legislation to use environmental trust bonds means utilities will be able to borrow money for power plant pollution control upgrades without substantially increasing rates for another powerful special interest - manufacturers and big business. Under the new financing system, business and residential ratepayers will pay for the borrowing, but it will cost them less than the higher rate increases needed to pay for traditional financing.

The new borrowing method is particularly timely for Wisconsin Energy which is using it to pay for $450 million in upgrades to aging plants in order to satisfy federal charges that it violated the Clean Air Act.