A final vote in the state Senate on major campaign finance reform legislation was obstructed again today by Governor Scott McCallum's continued refusal to work with Senate leaders to clear the way for the bipartisan measure to be approved and sent to the Assembly, the Wisconsin Democracy Campaign said.

Governor 'Wallaces' Campaign Reform
McCallum Does Bidding of Wealthy Special Interests, Stands in Schoolhouse Door on Senate Bill 104
February 5, 2002
Madison -
"Scott McCallum is doing a George Wallace on campaign finance reform," WDC executive director Mike McCabe said, referring to the late Alabama governor best known for tenaciously working to block racial integration. "By siding with the big money special interests and blocking movement on campaign finance reform, the governor is in effect saying 'corruption now, corruption forever.'"
A WDC review of campaign contributions McCallum has accepted from special interests that support his budget-repair proposal shows he received $1.1 million from those interests in roughly the first six months of his administration, a sharp increase from the three-quarters of a million dollars he received from the same groups over the previous 10 years. Many of these same groups are leading the fight against campaign finance reform. (See table below.)
In contrast, those who are fighting the governor's budget plan - local government officials and librarians - gave McCallum just $2,100 in six-plus months at the beginning of his tenure in the state's highest office and $300 in the preceding 10 years (See chart below.)
"The people the governor likes to call big spenders didn't spend big where it counts most," McCabe said of those hit hardest by McCallum's proposed budget cuts. "If they had made huge campaign donations instead of just collecting trash, plowing streets and stocking bookshelves, they wouldn't be on the hit list now."
When Senate Majority Leader Chuck Chvala (D-Madison) and Senate Bill 104's author, Senator Mike Ellis (R-Neenah) sought assurances that McCallum won't use partial vetoes to alter the delicate bipartisan balance legislative negotiators will have to strike in any agreement on campaign finance reform legislation, it was the fifth time McCallum had an opportunity to provide leadership on issues relating to political corruption and the fifth time he ran for cover, McCabe said.
Listing the previous chances, McCabe said the governor was asked to put funding in the state budget for campaign reform as his predecessor did, he could have vetoed funding for the legislative caucuses, and he was asked to authorize the attorney general to challenge the legislature's use of state funds to pay private lawyers to defend legislative employees under criminal investigation. He also was asked by the Wisconsin Democracy Campaign in a November 27 letter to the announced candidates for statewide office to take a position on Senate Bill 104 before being asked last month by Ellis and Chvala for the same no-partial-veto pledge former Governor Tommy Thompson made. In every case, McCallum dodged.
"It's like he's allergic to leadership," McCabe said.
In blocking movement on campaign reform legislation, McCallum is putting the interests of his donors - who make up two-tenths of 1 percent of the state's voting-age population, a WDC analysis shows - ahead of the 90 percent of voters who said in a referendum they want campaign reform, he said.
"All you have to do is follow the money to see why the governor put forward a budget plan so bad that not a single member of the legislature wants to sponsor it," he said. "On campaign finance reform, he's ignoring the wishes of the vast majority of voters in order to look out for the same big donors who benefit most from his budget proposal."
It's not too late for the governor to redeem himself, McCabe said.
"There is broad bipartisan support in the Senate for SB 104 - it will pass overwhelmingly if Governor McCallum clears the way for it to be brought to a vote. The governor needs to go into a room with Chvala and Ellis and not come out until they have reached an understanding that will allow SB 104 to be acted upon," he said. "The governor doesn't have to give up any influence over what campaign finance reform ultimately looks like. He does need to trade in his rose garden strategy for an active role in negotiating a bipartisan agreement on reform legislation."
Table
•
Chart
CONTRIBUTIONS BEFORE AND AFTER MCCALLUM BECAME GOVERNOR FROM SPECIAL INTERESTS THAT SUPPORT* HIS BUDGET PROPOSAL
GROUPS
SPECIAL INTEREST
CONTRIBUTIONS 12/20/00** to 6/30/01
CONTRIBUTIONS 1/1/91 to 12/19/00
Wis. Manufacturers & Commerce, Nat'l Fed. of Independent Businesses, Wis. Grocers Assn., Wis. Restaurant Assn., Wis. Merchants Fed., Milw. Metro Assn. of Commerce
Business, Manufacturing & Distributing
$375,400
$323,967
Associated Builders and Contractors, Wis. Builders Assn., Associated General Contractors
Construction
$367,763
$132,540
Wis. Realtors Assn., Wis. Rental Housing Leg. Council
Real Estate
$99,818
$80,472
Wis. Transportation Builders Assn.
Road Builders
$98,598
$22,264
Wis. Farm Bureau, Wis. Potato and Vegetable Growers
Agriculture
$43,729
$55,950
WI State Telecommunications Assn.
Telephone companies
$12,100
$11,075
Wis. Assn. of School Boards, Assn. of Wis. School Administrators, Wis. Assn. of School District Administrators, School Administrators Alliance, Wis. Charter Schools Assn., Wis. Council on Religious and Independent Schools
Education
$9,055
$7,583
Wis. Bankers Assn.
Banking
$46,126
$35,950
State Medical Society
Physicians
$31,064
$54,194
Wis. Health and Hospitals Assn., Meriter Health Services, Wis. Health Care Assn., Wis. Assisted Living Assn.
Hospitals, Nursing Homes, Home Care Services
$11,659
$8,950
Wis. Motor Carriers Assn.
Trucking
$8,110
$19,625
Pharmacy Society of Wis.
Pharmacists
$301
$250
Sentry Insurance
Insurance
$600
$250
TOTAL
$1,104,323
$753,070
*Special interests identified through a 1/29/02 press release by the governor's office or appearance at a 1/31/01 news conference with the governor.

**Represents the week that former Gov. Thompson announced he would leave office and McCallum would succeed him.
CONTRIBUTIONS TO GOV. MCCALLUM FROM SPECIAL INTERESTS
WHO SUPPORT AND OPPOSE THE GOVERNOR'S BUDGET PROPOSAL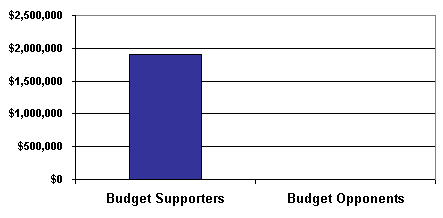 Supporters of Gov. McCallum's budget proposal contributed $1,907,804 to the governor from Jan. 1, 1991 to June 30, 2001.

Opponents of McCallum's proposal contributed $2,400 to the governor during the same period. That includes $2,100 from Dec. 20, 2000 to June 30, 2001 and $300 from 1991 to Dec. 19, 2000.

The contributions from the proposal's supporters represent 62 percent of the $3,053,791 in total large individual and PAC contributions McCallum received from 1991 to June 30, 2001.

The contributions from the proposal's supporters represent 61 percent of the $1,819,710 in large individual and PAC contributions he raised between Dec. 20, 2000 and June 30, 2001.