Pharmaceutical manufacturers substantially increased their dose of campaign contributions and lobbying activity during the first six months of 2000 when Wisconsin legislators considered but failed to pass any one of six bills to create a prescription drug assistance plan for the elderly, the Wisconsin Democracy Campaign said today.

Pharmaceutical donations in 2000 up a fifth over previous 5 years combined; lobbying up 78%

August 10, 2000

Madison - Pharmaceutical manufacturers substantially increased their dose of campaign contributions and lobbying activity during the first six months of 2000 when Wisconsin legislators considered but failed to pass any one of six bills to create a prescription drug assistance plan for the elderly, the Wisconsin Democracy Campaign said today.

Figures show that four political action committees representing large pharmaceutical companies from outside of the state contributed $15,275 during the first half of 2000, or 21 percent more than all pharmaceutical PACs had given in the previous five years combined to legislative candidates and legislative campaign and state party committees, a WDC analysis found (Chart).

In addition to campaign contributions, pharmaceutical companies with an interest in the prescription drug issue spent $224,113 on lobbying in the first half of 2000. That's 78 percent more than the companies spent in the previous six months (Table 1). Most of them lobbied on only a small number of pharmaceutical or health-related bills, and spent from 15 percent to 100 percent of their time lobbying on prescription drug proposals.

The leading dollar contributor among pharmaceutical PACs in the first six months was Pfizer, which gave $7,000, which is only $50 shy of the total amount they contributed to legislative campaigns between 1995 and 1999. Glaxo Wellcome's PAC contributed $3,700 to legislators and the State Senate Democratic Committee from January to June 2000. They had not previously contributed to legislative campaigns. (See table below)
| PAC NAME | 1995-99 | Jan-June 2000 |
| --- | --- | --- |
| Pfizer PAC | $7,050 | $7,000 |
| Glaxo Wellcome | $0 | $3,700 |
| Eli Lilly and Company PAC | $4,000 | $3,000 |
| Aventis Pharmaceuticals/Rhone-Poulenc Rorer Inc. | $300 | $1,575 |
| DuPont Merck Pharmaceuticals PAC | $500 | $0 |
| Johnson & Johnson Employees PAC | $500 | $0 |
| Novartis Employee Good Government PAC | $500 | $0 |
| TOTALS | $12,650 | $15,275 |
"This is yet another example of special interest donors getting their way," WDC executive director Mike McCabe said. "The pharmaceutical industry had not been very active in Wisconsin until the prescription drug legislation came along. Then they were all over the Capitol like ants on a picnic basket. They got their money's worth, stopping the legislation that so many seniors want dead in its tracks."
Like other powerful interest groups, the pharmaceutical industry targets its money well. Among the key recipients were legislative leaders and the campaign committees that they control (Table 2). The Republican Assembly Campaign Committee and the State Senate Democratic Committee are legislative campaign committees that aggressively raise money and use those resources to help legislative candidates in key races. They are run by GOP Assembly Speaker Scott Jensen and Democratic Senate Majority Leader Charles Chvala, who control their respective houses and decide which bills will be considered in the Assembly and Senate.
Other top recipients of pharmaceutical industry contributions were the state Democratic and Republican parties; members of the legislature's Joint Finance Committee and Senate and Assembly health committees; and several of the sponsors or co-sponsors of the six bills introduced between January and March 2000 to create a prescription drug assistance program.
They made their contributions to legislators during or shortly after the legislative session. And it seems likely that attempts to influence this emotional policy matter will only increase. Like policymakers in other states and nationally, Wisconsin legislators are feeling increasing pressure to assist low-income elderly people who are forced to spend thousands of dollars per year for medicine, sometimes forsaking other necessities. Clearly the pharmaceutical companies want to make sure their interests are protected as this issue receives legislative attention.
CHART
PHARMACEUTICAL PAC CONTRIBUTIONS TO
LEGISLATIVE CANDIDATES AND COMMITTEES*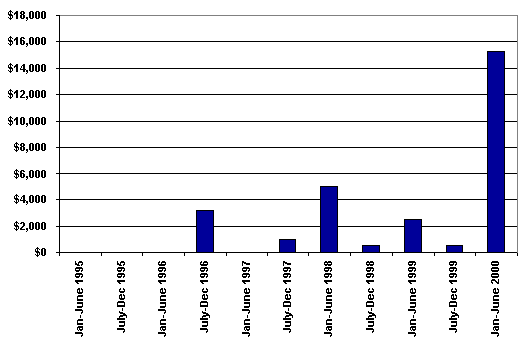 *Pharmaceutical PACs gave 21 percent more money to legislative candidates, legislative campaign committees and the parties between January and June 2000 than they did in the previous five years (1995-99) combined.
TABLE 1
LOBBYING COSTS BY THE PHARMACEUTICAL INDUSTRY**
Name
Jan-June 1998
July-Dec 1998
Jan-June 1999
July-Dec 1999
Jan-June 2000
Aventis*** Pharmaceuticals
$619
$1,115
$0
$1,425
$6,667
Glaxo Wellcome
$0
$0
$3,893
$2,512
$41,635
Novartis Pharmaceuticals
$2,586
$2,214
$5,829
$3,886
$4,537
Pharmacia & Upjohn
$0
$0
$0
$0
$7,371
Eli Lilly and Co.
$19,159
$17,744
$24,852
$24,114
$26,157
Parke Davis
(Div. Of Warner Lambert)
$701
$0
$0
$1,717
$25,789
Pharmaceutical Research and
Manufacturers of America
$26,951
$22,461
$34,255
$25,548
$21,188
HLR Service Corp.
$30,330
$32,379
$66,629
$2,179
$25,668
Wyeth-Ayerst Laboratories
$36,828
$21,425
$28,109
$40,556
$41,781
Pfizer
$28,659
$6,402
$24,340
$24,315
$23,320
TOTALS
$145,833
$103,740
$187,907
$126,252
$224,113
**Lobbying expenses by pharmaceutical industry groups and companies between January and June 2000 increased 78 percent over the previous six-month period.

***Formerly Hoechst Marion Roussel and later merged with Rhone-Poulenc Rorer Pharmaceuticals Inc.
TABLE 2
PHARMACEUTICAL PAC CONTRIBUTIONS TO CANDIDATES
JANUARY - JUNE 2000
Name
Title or Relevant
Committee Assignment
Party
Amount
Republican Assembly Campaign Committee
Legislative Campaign Committee
R
$1,250
Unity Fund
State Democratic Party account
D
$1,000
State Senate Democratic Committee
Legislative Campaign Committee
D
$1,000
Sen. Rodney Moen
Health committee chairman
D
$750
Rep. Scott Suder
 
R
$750
Rep. Scott Jensen
Assembly Speaker
R
$750
Sen. Robert Welch
Health committee member
R
$600
Rep. Frank Urban
Health Committee member
R
$600
Rep. Steve Foti
Assembly Majority Leader
R
$550
Sen. Roger Breske
Health committee member
D
$500
Sen. Chuck Chvala
Senate Majority Leader
D
$500
Sen. Alberta Darling
Joint Finance Committee member
R
$500
Sen. Gary Drzewiecki
Health committee member
R
$500
Sen. Carol Roessler
 
R
$500
Sen. Mary Panzer
Senate Minority Leader
R
$500
Republican Party of Wisconsin
State Party
R
$500
Rep. Shirley Krug
Assembly Minority Leader
D
$450
Rep. Eugene Hahn
 
R
$400
Rep. Antonio Riley
Joint Finance Committee member
D
$400
Rep. John Townsend
 
R
$400
Rep. Steve Wieckert
Health Committee member
R
$400
Rep. Jean Hundertmark
Health Committee member
R
$300
Rep. Gregg Underheim
Health Committee chairman
R
$300
Sen. Brian Burke
Joint Finance Committee co-chair
D
$250
Rep. John Gard
Joint Finance Committee co-chair
R
$250
Rep. Sheryl Albers
Joint Finance Committee member
R
$200
Rep. Bonnie Ladwig
Asst. Assembly Majority Leader
R
$150
****
 
 
 
Rep. Steve Kestell
 
R
$100
Rep. Gerald Petrowski
 
R
$100
Rep. Phil Montgomery
 
R
$100
Rep. Rick Skindrud
 
R
$100
Rep. Dan Vrakas
 
R
$100
Rep. Lorraine Seratti
 
R
$100
Rep. Jeff Stone
 
R
$100
Rep. Mark Pettis
 
R
$100
Rep. Carol Kelso
 
R
$100
TOTAL
$15,275
****Originally a $125 contribution from the Aventis PAC to the Sheila Harsdorf (R) campaign was shown on this list. On August 16, 2000, Aventis PAC informed the State Elections Board that this check was voided, thereby confirming the Harsdorf campaign statement that it had never accepted the contribution.