It's Election Day, and Republican bills that would effectively end voter registration drives and prohibit communities from issuing photo IDs to register to vote are among a host of bills the Assembly is poised to act on today.

Assembly Poised to Pass Measures to Make It Harder to Vote

February 16, 2016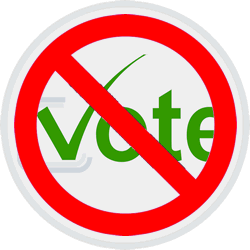 Senate Bill 295 was approved on a party-line vote last week by the Senate. The measure would end the long-time practice of allowing municipal clerks to use special registration deputies to register residents to vote, and flat out forbid local clerks from conducting voter registration drives.
Matt Rothschild, executive director of the Wisconsin Democracy Campaign, said the measure suppresses voter turnout by forbidding the valuable work of civic-minded groups, like the League of Women Voters of Wisconsin, and many local officials who have worked tirelessly to turn out the vote for decades.
The measure was sponsored by Sen. Devin LeMahieu, of Oostburg, and Rep. Kathy Bernier, of Chippewa Falls.
During her 2014 reelection, Bernier benefited from nearly $152,000 in outside spending by special interest groups, led by Wisconsin Manufacturers & Commerce (WMC), which doled out an estimated $115,000 to support her. During his 2014 election, LeMahieu drew about $1,800 in outside support from conservative political and ideological groups, including the National Rifle Association, Wisconsin Right to Life and Wisconsin Family Action. Labor-backed groups unsuccessfully spent about $73,000 against him.
The Assembly also plans to consider Assembly Bill 723, which would prohibit cities and counties from issuing photo ID cards, and prevent previously issued cards from being used to register to vote. The measure, which was introduced last month by Sen. Van Wanggaard, of Racine, and Rep. Joe Sanfelippo, of Milwaukee, appears to target the city and county of Milwaukee's move to institute local ID cards.
Wanggaard was among three state senators who lost their seats after being targeted for recall in 2011 and 2012. Outside special interests on both sides doled out an estimated $2.3 million in Wanggaard's 2012 recall, led by the labor-backed Greater Wisconsin Committee and Planned Parenthood. Wanggaard won the 2014 general election to take back his seat.
Wanggaard drew outside support from WMC, Americans for Prosperity, Wisconsin Club for Growth, American Federation for Children, and Wisconsin Right to Life when he lost his 2012 recall to former Democratic Sen. John Lehman.