Republican Attorney General Brad Schimel plans on issuing a legal opinion on whether the state can regulate high-capacity wells frequently used in the agricultural industry, which spent about $36,000 to help elect him in 2014.

Schimel to Rule on Wells After Getting Contributions from Factory Farms

February 5, 2016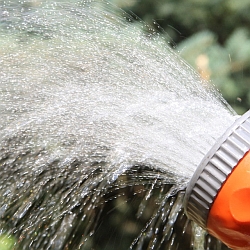 The request for the opinion was made earlier this week by GOP Assembly Speaker Robin Vos, of Rochester, and approved by a committee of Assembly legislative leaders that is controlled by Republicans. Vos claims conflicting court rulings on the Department of Natural Resource's authority have caused a backlog of high-capacity well applications at the agency.
High-capacity wells pump 100,000 gallons or more of water per day, a rate that environmentalists and other critics say can deplete groundwater, rivers, lakes and streams.
Vos, who received $10,425 in agriculture industry contributions between January 2010 and June 2015, says there's nothing in state law that gives the DNR authority to regulate the placement and construction of the wells, or even analyze the effect they will have on water supplies or other nearby wells.
The GOP-controlled legislature, which hopes to finish its work for the year by March, is considering Senate Bill 239, a controversial measure that would allow people who have high-capacity wells to replace, rebuild or move them without state approval.
Attorney general legal opinions are considered correct interpretations of existing law, and may only be overturned in court or changed by the legislature. SB239 and other bills to restrict DNR regulation of high-capacity wells would not need to be passed if Schimel renders an opinion that agrees with Vos.
Schimel received $30,950 in individual and political action committee contributions from the agriculture industry in 2013 and 2014, including $4,400 from about a half dozen factory farm owners. Topping the list of Schimel's factory farm contributors was $1,000 each from Todd Willer, of Freedom, John and Keri Vosters, of Freedom, and James Ostrom, of De Pere, all owners of Milk Source, which operates about a half-dozen large farms throughout the state.
In addition, Schimel received nearly $5,100 in support through outside electioneering activities by the Wisconsin Farm Bureau Federation's political action committee. The Federation is the state's largest farm organization and a powerful lobbying force that also supports SB239.