Wisconsin Attorney General Brad Schimel asked the U.S. Supreme Court on Monday to reject an appeal of a state John Doe investigation into coordination between special interests groups and Republican Gov. Scott Walker's campaign during the 2011 and 2012 recalls.

Schimel Has WMC Dirt on His Hands in John Doe II Filing

August 16, 2016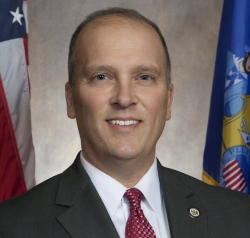 Attorney General Brad Schimel
Wisconsin Attorney General Brad Schimel asked the U.S. Supreme Court on Monday to reject an appeal of a state John Doe investigation into coordination between special interests groups and Republican Gov. Scott Walker's campaign during the 2011 and 2012 recalls.
Among the groups under investigation in the John Doe probe was Wisconsin Manufacturers & Commerce (WMC), the state's largest business group, which spent an estimated $1.5 million to help elect Schimel in 2014.
In addition to its outside election spending, WMC claims to have 3,500 member businesses that hail from more than a dozen special interest groups, including business, manufacturing, energy, insurance, health care, transportation, construction, real estate, finance, tourism, agriculture, road builders, natural resources and telecommunications. The interests represented by WMC contributed nearly $750,000 in large individual and political action committee (PAC) contributions in 2013 and 2014 to help him win his election.
The John Doe investigation was halted last year by the Wisconsin Supreme Court's conservative majority in a 4-2 ruling. The state's high court ruled that the coordination of election activities between candidates and special interest issue advocacy groups, which secretly raise and spend millions of dollars on elections, was legal.
Earlier this year, three district attorneys involved in the halted investigation were allowed by the Wisconsin Supreme Court to appeal its ruling to the nation's high court.
Late last year, Walker and the GOP-controlled legislature approved sweeping changes to the state's campaign finance laws, including a measure that prohibits the use of secret John Doe investigations into campaign finance violations by elected officials. Schimel argued that these changes in state law after the fact mean that the U.S. Supreme Court should reject the district attorneys' appeal. The old laws, under which Walker was being investigated, are "an irrelevant relic," Schimel told the U.S. Supreme Court.
The district attorneys also claimed that two of the four state Supreme Court justices who favored halting the John Doe probe should have recused themselves. That's because WMC, Wisconsin Club for Growth, and Citizens for a Strong America were among the groups being investigated in the John Doe II probe. Those three groups spent millions of dollars on outside electioneering activities to help elect Justices David Prosser and Michael Gableman to the bench. But Schimel argued the recusal argument is not a federal issue and should not be heard.